Add your social links to your online store on zVendo to make it easy for your customers to get to your Facebook, Instagram pages, Twitter, and LinkedIn if necessary.
Steps To Add Social Media Links #
From your backend dashboard, click on "Store Configurations"
Click on "Store Settings" and then click on "Store Identity"

From the "Social Links" section, add your social media links by copying and pasting them. As shown in the picture below.
Scroll down to the bottom of the page and click on "Save Changes".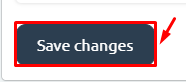 View your Social Media Links on Store #
Now, you can head to the top of the page to view the links.
Click on "Store" to view how your social links will look to your customers.
On the front page of your store, scroll down till you get to the footer, and you will see your social media icons, that is how your customers can find them and can contact you. As shown in the below picture.

Congrats, you've added the social links of your social media channels to your store, successfully.