1-From your Admin page, click on the icon with the 3 lines (hamburger button ☰) next to View your store,  My Plan>Billing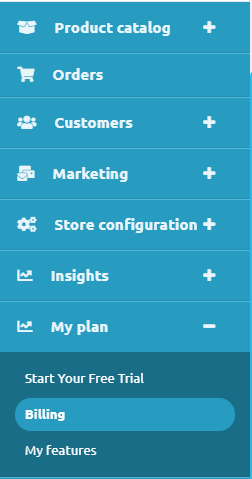 2-From that page you can add your credit card information from payment methods to start paying your monthly subscription fees, you can check your credit balance, and your due date to pay the next subscription.

3-From Payment methods, click on Manage,  Add Card, add your credit card information, you will see that disclaimer:  The Credit Card will be used only for verification, you will not be charged until the trial period ends. Your default bundle will be the "Basic Bundle" . to change your bundle go to "Bundles" after verification. That guarantees that you won't be charged until your free trial ends.

4-To know how to change your bundle or selling channels, or add new selling channels, click here