When the Lock store by password feature is enabled, you can restrict customer access to your zVendo store. You can generate a password and provide it to consumers who wish to enter your store.
Search engines only find your store password page. Other pages, such as product pages, are hidden, and search engines will not return them in search results.
In this article, you will be able to lock your store with a password and unlock it.
How Do You Lock Your Store with a password? 
Login to your Dashboard
Press Store Configuration 
Click Store Lock
Choose Lock with Password 
In the Password to view store column, write a password you wish to provide to your customers
From Choose File, choose from your file the image you would like your customers to see
Once you finish, press Save Changes from the bottom right corner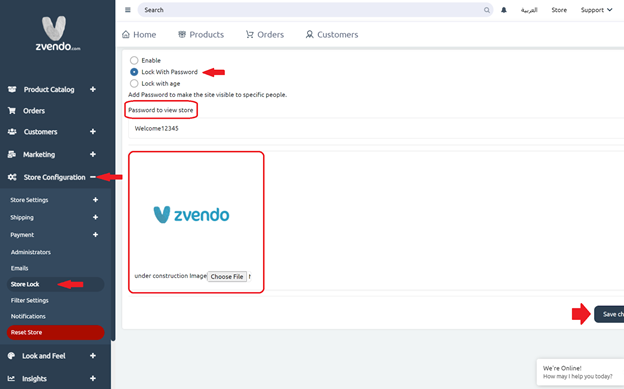 How Do Your Customers See This Feature? Once your customers write the provided password, they will have full access to your store.
How Do You Disable Lock Store with Password Feature? 
Login to your Dashboard 
Expand Store Configuration 
Press Store Lock 
Choose Enable 
Click Save Changes