Boost your customers trust, your conversion rates and your website traffic through zVendo reviews feature.
We empowered your store with a reviews section to allow your customer to honestly share their experience!

This section is available for all products and in all templates.
So now let's see how you customize it… 
Go to your store Dashboard
Press Marketing
Click Reviews
Note: all of your customers' reviews will be found on this page…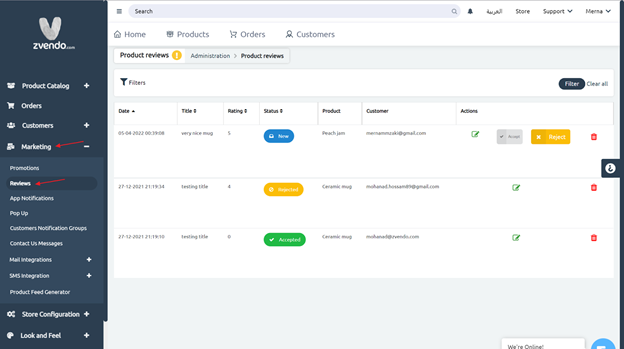 4. On this page, you will find previous reviews, accepted, rejected and new reviews
5. Through this page, you can accept or reject new reviews.

Note: by accepting the review, it will be available on your storefront… 

6. By pressing the edit icon, you will be able to see the customer's name, customer's score and comment, the reviewed product and the review date…