After creating a configurable product, you can start creating product variants by following these steps:
1-From your store Admin page, go to your navigation menu, and click on the icon with the 3 lines (hamburger button ☰) next to View your store, Go to the configurable product you created from your products menu.

2-Scroll down till you find that product and choose manage variants, then click on create variant.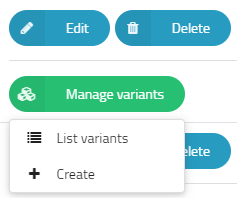 3-From the details tab, add variant name in Arabic and English, and enable variant so it can be visible to customers on your store.
4-Add variant code, and add variant prices on all channels.
5-Select variant option value, for example, if you created an option named size for this product, then you can choose a value of 500 ml for this variant, and other values for other variants, and so on.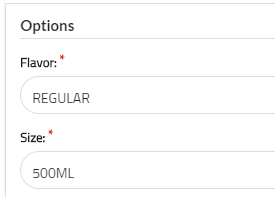 6-Assign shipping, and enter product vital information for shipping requirements, as width, height ,weight.
7-Choose if you want to track stock/inventory of this product so you can know when it's close to running out of stock by checking that button, and you will be able to enter your current stock of the variant in your warehouse or storage house, for example if  you have 12 items of this product variant, enter 12 in the stock tab.
8-Add your variant SKU and barcode.
9-Access taxes from your navigation sidebar and add taxes to the variant.
10-Finally, click on Create.