What is a thumbnail?
A thumbnail is a small depiction of a page or image that identifies a file based on its contents. The file opens by clicking on the thumbnail. Thumbnails also provide more detail about products without requiring the full-size image to be viewed. For instance, if your product contains several materials or has multiple colors, and you want to show their image instead of the text, it will be displayed on all platforms as an image.
Why is it important for my store? 
A thumbnail on the internet is like a packaging image that motivates consumers to buy. It is also responsible for the first impression of web content such as photographs and videos. A well-designed thumbnail image piques the viewer's curiosity and encourages them to click.
How do you add thumbnails to your products on zVendo store? 
In order to proceed with this article, you might need to set your configurable product list first. CLICK HERE
1- Login to your zVendo Dashboard
2-Click on product catalog
3- Choose Options 

4- On the top left corner, you can either create a new option for your product or choose from the already made options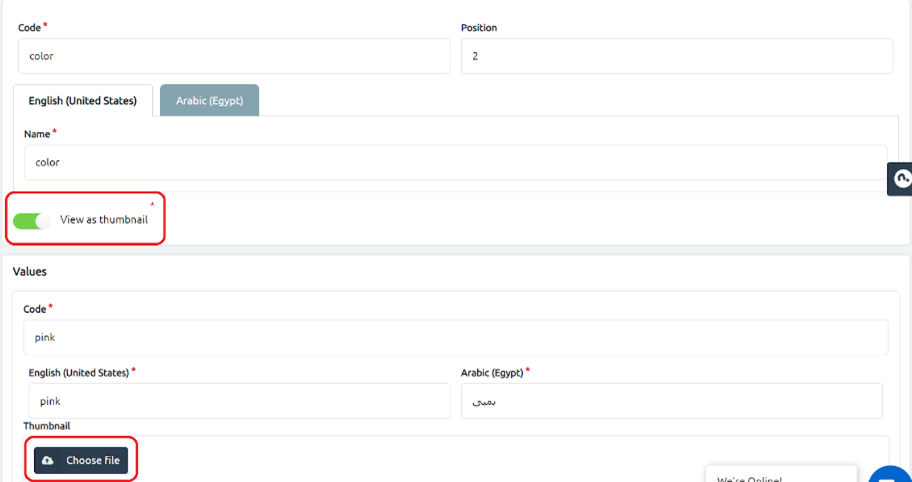 5- Press on the option you would like to view as thumbnail
6- Click on View as thumbnail 
7- by clicking on that option, it will reveal the "choose file" box. Press on it and choose your desired image.
Now you are good to go with your thumbnail!
This is how it looks on your storefront…