A Facebook business page is an important tool for anyone seeking successful marketing, whether you are a marketer, business owner, consultant, or SME.
Imagine an advertising tool that helps you reach the typical customers based on their likes, interests, and behaviors. A tool that saves you time and money by optimizing your ad delivery to get your message across to those most likely to convert.
This is the main advantage you get from Facebook advertising, this is the reason why it is used by many eCommerce entrepreneurs and marketers, especially those who are just starting out and don't have much advertising experience or have a small ad budget. Anyone can support the growth of their business with Facebook ads, as long as they are willing to learn the basics.
Let us firstly look at what makes Facebook such a popular advertising platform, the first question we will ask … why use Facebook for advertising?
With so many options, deciding where to spend your marketing budget can be challenging. What makes Facebook especially attractive to new and experienced business owners, there are  three reasons:
Increase traffic from an active and engaged user base
Facebook reportedly has almost two billion active monthly users, and those users spend more of their time on Facebook than on competing other social networks. In addition, Facebook owns two popular mobile apps Messenger and Instagram. That's a big number of activation and will drive traffic to your landing page.
Target customers based on their demographics, interests, and behaviors
Facebook is designed mainly for sharing personal updates and information with your community, such as vacation photos, important anniversary pictures, songs you've discovered, and relationship statuses. All likes and connections made on Facebook and Instagram create detailed user profiles that advertisers can take advantage of with targeted advertising. Facebook advertisers can match their products and services to a long list of users' interests, traits, and behaviors, increasing the likelihood of reaching their ideal customers.
Generating brand awareness
Most companies have a Facebook and/or Instagram business page that they use to connect with their fans and customers on social media platforms. When you decide to use paid ads on Facebook and Instagram, you can choose to get them from your brand's social pages. This often leads to increased brand visibility and new followers for your business, which is one of the advantages of advertising on social platforms.
Types of Facebook ads
Your success in Facebook advertising depends on knowing your objective very well and the types of Facebook ads that match your targeted audience. 
And here we outlined five key Facebook ad formats you can use. 
Image
Image ads are best when you want to create an ad quickly or if you don't have a big budget. You can create an image ad directly from your Facebook page as a boosted post, or if you want more detailed targeting options, you can create an ad in Facebook Ads Manager.
Video
You can use Facebook video ads to showcase unique features or tell your brand's story. Videos of 15 seconds or less can help capture the audience's attention and keep them engaged. They should also have a clear call to action (CTA) at the end, such as buying a product or visiting a website.
Carousel 
Carousel Ads allow you to include up to 10 images or videos in one ad, each with its own link. People can scroll through the carousel by swiping left or right on their device or by clicking the directional arrows if using the desktop client.
Collection
The group ad format includes a full-screen, instant experience to make it easier for people to browse and buy your products.
Here's,
Steps to advertise on Facebook.
Set up your Facebook Business Manager.
Installing facebook pixel.
creating your ad campaign by setting your target audience and ad sets.
Choose your creative and run your campaign.
Step 1:Set up your Facebook Business Manager.
First, to start off the campaign, you first want to make sure your Business Manager account is set up correctly. Many people who give up on their Facebook advertising efforts do so because they created their accounts incorrectly or become too confused by the multiple Facebook ad options that they stop short of running an actual campaign.
To create your account at Facebook Business Manager, go to business.facebook.com and click Create Account.
Then complete the Business Manager setup and connect it to your Facebook business page and ad account.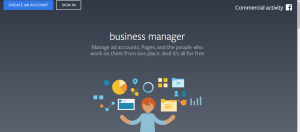 Step 2: Installing the Facebook pixel 
One of the most disturbing things among new Facebook advertisers is knowing whether or not their ads actually work. It's easy to run an ad or even set up a campaign in Ads Manager, but how will you calculate the sales your ads made on your website? This conflict can be easily resolved by installing the Facebook pixel.
Facebook pixel is the connection point between your Facebook ads and your website. A pixel is a tracking code that you need to create within your Business Manager account and then add to your website before you start paying for ads. It shows you all the actions taken by visitors coming to your website through your Facebook ads. Essentially, the Facebook pixel tells you not only if your ads have generated results but also what specific audiences and creative parts those conversions came from.
Setting up the Facebook pixel on your website is easier than it sounds and you can apply it with the help of zVendo
Step 3: Creating your ad campaign by setting your ad sets and target audience.
The first step in creating your ads is to create a campaign with different ad sets targeted to different audiences segments, in order to get a high conversion rate. The campaign structure and corresponding Facebook ads look like this: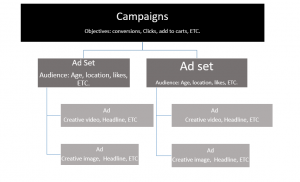 Inside each campaign is an ad group. This is where you choose the audience, budget, and targeting, as well as what ads your users will see. A single campaign can contain multiple ad groups, allowing you to test diverse audiences and individual ads against each other to find the best performance from each so you can focus there.
Targeting the right people with your ads is one of the keys to success with Facebook ads. Facebook has billions of users around the world, so finding the people who are most interested in your brand or product requires using the Audiences feature on Facebook. By choosing their interests, behavior, demographics.
Step 4: Choosing your creativity and starting to run your campaign.
The final step in creating your Facebook ad is to come up with creativity – the ad itself. Facebook advertising is completely different from traditional advertising and has its own set of best practices for a Facebook ad that actually converts.
The Facebook advertising platform is specially designed to be easy to use for those with little or no experience with digital marketing, making it more attractive to beginner entrepreneurs who don't want to pay any agency to display their ads.